We create customised, bespoke mobile houses.
The design takes into account the client's preferences, including the layout of the rooms, furnishings, colours, etc.
To make it easier for you to choose, we offer several house sizes, two finishing standards and a template of the most fashionable materials.
Choose the size of the house:
We offer comfort homes – fully equipped and ready to move in – as well as exclusive homes – with further amenities and extras of sophisticated design.
The size, layout, finish and furnishings of the house are each time designed by an architect and
configured according to the client's guidelines. The client can choose to forgo some of the offered products or supplement the design with additional elements, either from the exclusive package or from outside the template.
roof of your choice: single-pitched or gabled
Facade choice: panels other than Kerrafront Classic
external blinds
curtains or interior blinds
window and door mosquito nets
air-conditioning or energy recovery ventilation
monitoring
alarm
in the bathroom: a bathtub or a shower cabin to choose from
Fibo panels in the bathroom
glossy furniture
drawers and cargo baskets
3D visualisation
other customer requests
Any order – regardless of the standard of finish – can be added to:
gazebo/terrace (with or without roof)
transport of the house anywhere in Europe
foundation and levelling of the house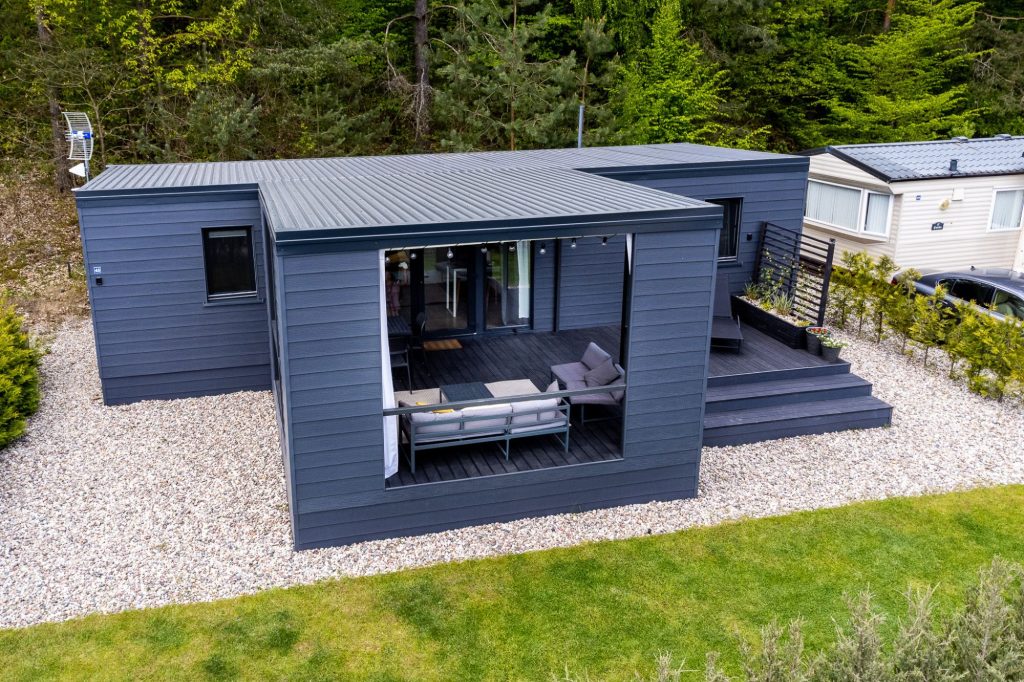 For ease of selection, we present a pattern book of finishing materials – facades, floor panels, worktops, furniture fronts, etc.
We use Kerrafront panelson the facades. Shades from the Classic line (9 colors) are available at the price of the house – examples in the photos

Panels from the Wood Effect, Modern Wood, Trend, Wood Design, Retro, Rustic collections are installed at an extra charge – examples in the photos



Here are examples of facades of houses we have completed.

Application examples of the Prefa façade.
The mobile home is an excellent solution for your business. We create, among other things, mobile offices, employee cottages and camping centres. Choose Vero Homes for your business.